SPECIFICATION
LINE UP
APPEARANCE
OPTION
DOWNLOAD
Optical Fiber Conversion System
Transmit all signals such as camera images, return signals, other various control signals up to 2km via only a single optical fiber cable. Additionally this has realized a function of powerful power supply.
This simple and reasonable optical fiber transmission system perfectly supports you for broadcasting and business that strongly supports studios, broadcast sites, and event recording.
This system enables multi-camera recording of an ENG exclusive camcorder with 3G-SDI output. Install this system only makes your work extremely high-quality by maximizing the ability of a camcorder.
Multi Functions, High Performance and Reliability
Developed based on more than 15 years of experiences and achievements since first PROTECH optical fiber conversion systems. An experted camera operator and a senior engineer started developing, many design team members got the brains together and brought this completion. Sticked on each parts, user efficiently operation and considered a sense of accuracy at the field.
Transmit and Receive up to 2km via a Single Fiber Cable
The optical fiber camera adaptor can transmit 3G/HD/SD-SDI signals and intercom signals, and the center station can transmit and receive camera power, intercom, tally, return, and genlock signals. The cable can be extended up to 2km. 3G-SDI output is equipped with two systems, strengthening the SDI system compatibility.
Long-Distance Transmission with Low Loss
The cable can be extended up to 2km. Transmits signals from the camera with almost no signal degradation due to cable extension. (May vary depending on usage conditions such as when there are many cable joints.)
Low Cost Optical Fiber Cable
Up to 2km operation is possible by connecting the optical fiber camera adaptor and the center station with a SMPTE cable or a fiber cable.
*If you need a LEMO type other than the standard type of optical fiber connector, please specify when ordering.
*Conditions of the optical connector and cable may affect to the length of transmission.
Powerful Power Supply

The power supplied to the camera adaptor can be supplied up to 2km from the center station. DC power (*) up to approx. 75W can be used. A low-power camcorder can be used with a return LCD monitor and camlight.
*When the 2km cable is extended, the available power on the camera side is approximately 75W (12V). Note that the usable power of the camera cable may vary depending on the usage conditions. It may not be possible to use if the system status, temperature status, or camera startup current is large.


Synchronization by Time Code
The time code signal can be transmitted in both directions. With this function, it is capable to synchronize the time code in each camera, and it is capable to build a multi-camera system unique to camcorders.
Remote Control Connection
Remote controllers and LANC remote controllers made by Sony / Panasonic / Ikegami can be connected. Not only basic functions such as lens iris, camera white balance, gain, but also remote control such as gamma, black level are also capable. (Control items are changed depending on a type of cameras. LANC can transmit a mode that can be used by connecting the remote control directly to a camera. Please specify the camera bland when ordering.)
AC/DC Drive
In addition to AC drive, shoulder camera adaptors and optical fiber base units can be driven by batteries (12V type / 14.4V type) in consideration of field operation. The low power consumption design enables long-time operation and allows use in an environment where AC cannot be obtained.

Equipped PROTECH Intercom System
Equipped with PROTECH's BNC connection intercom technology, you can easily utilize an intercom system.
The base unit is possible to use with PROTECH FD-400A. The camera adaptor is capable to use with Headset DL-510 or others.
HD-SDI Multi Camera Shooting
Multi camera recording is supported by using a camcorder with 3G-SDI signal outputs.
Display System Status on Time
The optical fiber camera adaptor and base unit are equipped with a link monitor display function that indicates whether 3G/HD/SDI signals are being transmit correctly from the optical fiber camera adaptor to the base unit. You can check the optical level statement at a glance.
■PS-470 SERIES
OPTICAL FIBER CAMERA ADAPTOR FOR SHOULDER TYPE
PS-470/N●Accessories:BNC 0.4m x1/BNC 1m x1/Remote control cable x1/User's manual/Warranty
■PS-570 SERIES
OPTICAL FIBER BASE STATION
PS-570/N●Accessories:AC cable /User's manual/Warranty
APPEARANCE
PS-470シリーズ
■Front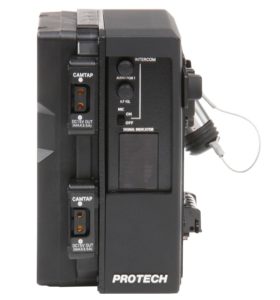 ■Rear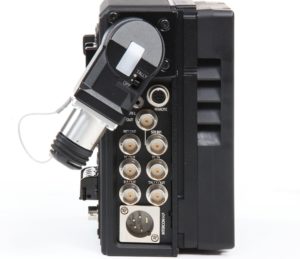 PS-570シリーズ
■Front

■Rear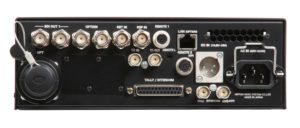 Note. Features, design and specifications are subject to change without notice.
Headset for intercom
DL-400/DL-500/DL-550
●Headset for intercom Optical adapter /Possible to use with center station.
One ear sealed type
(DL-400/DL-500) and dual ears sealed type(DL-550)
Rack mount bracket for PS-570
HS-RA90
●Bracket to rack mount PS-570
Monitor
LVM-89W
●8.9Inch monitor. Blue only/Monochrome display /4:3/16:9 guide display,Tally, Multifunction monitor like throughout.Composite,Analog HD component 、supports HDM  input
Pro Monitor
LVM-43W
●Lightweight and compact・4.3 inch pro monitor.Blue only/Monochrome display /4:3/16:9 guide display,Tally, Multifunction monitor like throughout.Composite use only.
VF interface unit
●For sony camcorder use viewfinder interface unit
VF interface unit
VIF-100P
●Sony camcorder use viewfinder interface unit
]
VF interface unit
VIF-100BC
●For Sony broadcasting camcorder use viewfinder interface unit
VF6 pin cable
VC-450
●Cable to connect the camera adapter to the mini monitor or VIF-100.
Remote controller cable
RCC-450S/RCC-450P/RCC-450i
●Remote control cable to connect the camera and camera adapter
LS SERIES
NS SERIES
PS SERIES
OPTION